Shooting against a green screen
What can go wrong and how to avoid some of the pitfalls
Led by Aidan Rich
June 7
@
7:45 pm
–
10:00 pm
Green screen can be a powerful tool for indie filmmakers, but it is important to be aware of the potential pitfalls and take the necessary steps to avoid them. The key is to plan ahead and test everything before shooting, and to be prepared for a lot of post-production work.
There are several pitfalls that indie filmmakers may encounter when shooting against a green screen.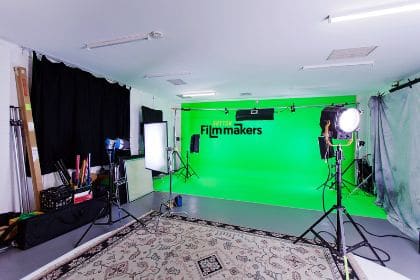 Some of these include:
Lighting: One of the most common issues with green screen is lighting. If the lighting is not consistent or if there are shadows, it can make it difficult to properly key out the green screen, resulting in a lower-quality final product.
Camera Movement: Camera movement can also be a problem, as even small changes in camera position can affect the way the green screen is keyed out.
Chroma Key: Chroma key can be a tricky process, and if not done correctly, can result in a poor quality final product. This can be due to a number of factors, such as poor lighting, camera movement, or incorrect keying settings.
Quality of the green screen: The quality of the green screen is also important. If the green screen is not of good quality, it can be difficult to key out, resulting in a lower-quality final product.
Cost: Green screen technology can be costly, and as an indie filmmaker, it may not be in your budget.
Post-Production: After all shooting, compositing and colour correction takes a lot of time and effort to make it look good. If not done properly, the final result can look fake and artificial.
Aidan will show you how to avoid some of the pitfalls with a practical demonstration of shooting green screen. Giving you a chance to setup and shoot some green screen footage.
£5
for members £8 for non members