Special Effects blood and all that
Led by Sean Phelan
April 19
@
7:45 pm
–
10:00 pm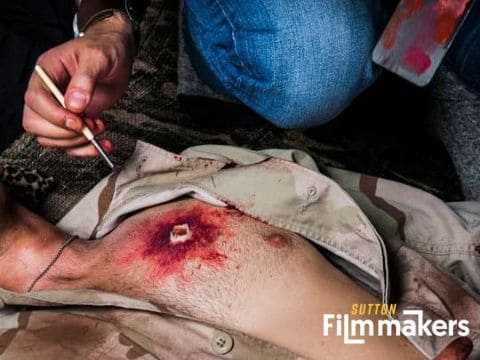 One of the fun elements of filming in the many genres is creating the blood and gore that are sometimes required. In Horror, the blood can come in gallons, in thrillers someone usually gets shot or stabbed – even running away and falling over will get you a graze and a bruise. Being injected with a fake syringe can look painfully real. All the above can be very expensive if you use an armourer, have a replica or live weapons and explosive squibs et al. Buying Blood pre-made costs a fortune from £10.00 to £60.00 per pint subject to quality.
You will be shown how to make quick and easy fake blood and have a go, hands-on. We will also use shop-bought blood Capsules etc. Then put it to good use by shooting several members of the club against a green screen. This will allow those of you who are able to play with the edit and choose the location.
To do this in safety and without explosive squibs or using blanks in firearms etc we are fortunate to have the patronage of the inventor of the 'Air Squib' kit. This is an air-compressed kit invented in Sweden by Olev Nylander. A Professional FX technician. It is a wireless system that can be activated by another leaving the actor free to move and generally overdo the big death scene while not attached to a hose full of the red stuff.
It has been used in many many films and TV shows from Peaky Blinders to Poldark. It is useful as it does not require the cutting of shirts, blouses etc. They can be washed and reused after. Always think of the budget and the retakes ( not to mention safety). He is sending us his kit.
We will be filming the evening as Olev wants to see how easy we/you find using his kit.
Lastly, regardless of all the above – wear old clothes. Fake blood will initially stain skin and clothes. It can be easily washed off the skin but clothes sometimes need more than one wash. We will be using blood that is non-toxic but will contain food dyes. It can be used on the skin and face but it does not taste great. Even though we use sweet carb syrup in part to make it.
I look forward to making a mess with you.
Sean
Sorry this was missing
Here is the fantastic video that was missing from the event. We apologise that it wasn't available on the day but it's here for you now.
£5
for members £8 for non members